Laminate Flooring in Tacoma, WA
When you want gorgeous styles with maximum oops-proof durability for your next flooring renovation, consider laminate flooring at Gary Johnson Flooring America.
We take our jobs seriously as the Tacoma area's local flooring store, offering full-service solutions from selection through laminate flooring installation. We take the time to understand your needs and preferences to deliver a one-of-a-kind laminate solution you'll love for years. Visit our showroom in Tacoma, Washington, today to start browsing our laminate flooring selection!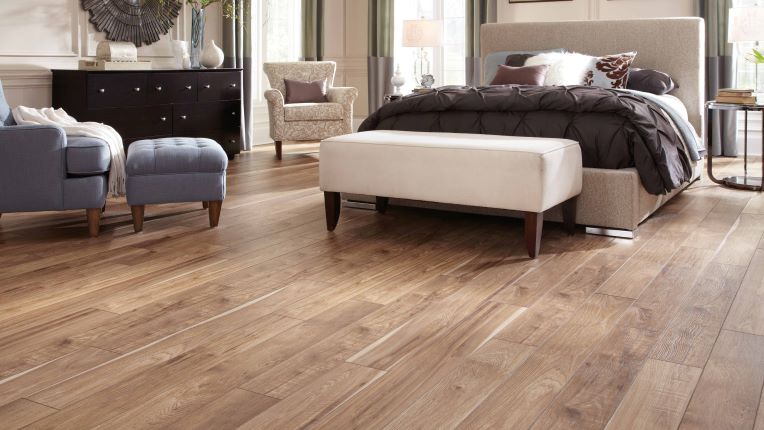 What is Laminate Flooring?
Laminate is a popular flooring solution due to its practicality and style. Composed of four durable layers, this floor is designed to withstand an active household while still delivering the look of natural wood or tile floors. Each layer serves a distinct purpose:
Back Layer: Offers a stable foundation that supports the plank and protects the subfloor.
Core Layer: The wood byproduct core provides a comfortable resilient feeling underfoot built to withstand foot traffic over the years.
Decorative Layer: Realistic printing technology offers a variety of wood or tile looks or even textures to enhance your home's interior.
Wear Layer: The clear top layer repels moisture and protects the plank from scratches, dents, and spills for worry-free living.
What Types of Laminate Flooring are Available?
At Gary Johnson Flooring America, we strive to offer a variety of laminate floors to meet any of Tacoma customers' needs. Whether you desire the look of tile in your bathrooms, or wood look laminate throughout, you can find what you need at our local showroom. Learn more about the types of laminate floors available:
Wood Look Laminate
Laminate wood flooring authentically replicates the look and texture of solid wood, providing exceptional performance advantages at a significantly lower cost. It allows you to choose your desired design with various graining, knotting, cuts, and stains. Comprising four robust layers, laminate wood floors not only deliver the stunning texture, grain patterns, knotting, and colors of real wood planks but also offer waterproof durability, making them an excellent choice for upgrading individual rooms or your entire home.
Popular wood-look laminate options often feature long, wide planks with beautiful beveled edges. You can explore a range of styles, from the rustic charm of hand-scraped knotting and swirls to cleaner, more neutral wood patterns, all available at our Tacoma flooring store. Wood-look laminate flooring seamlessly replicates a wide range of wood species, including traditional mahogany and rustic knotted hardwoods. From charming oak to the soft tones of pine, we have all the wood-look laminate to complete your interior design.
Tile Look Laminate
If you envision a contemporary bathroom adorned with the sophistication of slate tiles, laminate tile flooring provides a more cost-effective alternative to achieve this desired look. Our selection encompasses various styles resembling natural stone, ceramic, and porcelain, ensuring you can find the realistic aesthetic you seek. Furthermore, it offers the advantage of being warmer underfoot, particularly welcoming during chilly Tacoma winters. With our pet-proof and kid-proof laminate tile floors, you can enhance the ambiance of your bathroom, kitchen, or any room in your home, whether it's the luxurious allure of marble or the serene charm of slate that captures your imagination.
How to Choose The Best Laminate Floor for Your Project
With so many options, it can be difficult to select the perfect laminate floor for your Tacoma project. However, our goal is to make every step of your flooring renovation simple and fun! Our friendly flooring experts know the right questions to ask and take the time to understand your lifestyle, budget, design preferences, current space, and budget to narrow down your search. Our approach is designed to streamline your search, whether you possess a precise laminate type in mind or require guidance to kickstart the process. We're here to meet you at any point in your decision-making journey to choose the best laminate floors!
What Are The Advantages of Laminate Floors?
Our Washington customers continue to choose laminate for its variety of advantages in design and style. You can rest easy knowing every product we carry is hand-selected for maximum quality with industry-leading laminate brands including Shaw, Mohawk, MSI, TAS Flooring, Armstrong, Tarkett, Dixie, Masland, Dreamweaver, Surface Art, Dal Tile, Bedrosians, Arizona Tile, and more. Learn more about all the advantages of laminate:
Easy Care and Maintenance: All it takes to keep your floors clean is regular sweeping and mopping.
Meets Any Budget: We offer laminate at price points that meet your budget needs, so anyone can enjoy a flooring remodel.
Versatile Styles: Choose from modern or traditional wood looks that perfectly enhance any aesthetic you desire.
Lasting Durability: Laminate is long-lasting in high-traffic areas, preventing scratches, dents, fading, and daily mishaps for a kid and pet-friendly floor.
Water-Resistant: Never fear moisture with laminate's water-repelling surface that makes cleaning up spills worry-free.
Quick and Easy Installations: Laminate is designed for quick and easy installations, meaning you can start enoying your beautiful new floors much faster.
Comfort: Offering a warm, resilient feeling underfoot, you'll enjoy walking on your floors in any season.
Professional Laminate Flooring Installations with Tacoma Contractors
After selecting your ideal laminate floor, rely on our experienced Tacoma contractors to finish the job with a professional laminate flooring installation. No matter the size or scope of your project, we have the necessary skills and tools to complete the job swiftly and accurately. This offers you peace of mind your floor is living up to its water-resistant potential and with beautiful designs.
Further, we back each flooring installation with our Adore Your Floor Guarantee. This promises a laminate installation you love. In the unlikely event you experience any issues, just give us a call within 30 days and we will make it right on our own dime. When you are ready to make your flooring remodel dreams a reality, turn to Gary Johnson Flooring America!
Contact us today to learn more about our laminate floors! We proudly serve Tacoma, Washington, as well as the surrounding Pierce County communities.